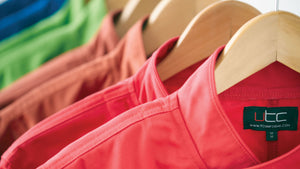 We're sorry that your purchase didn't suit you, but returns are simple, just follow the steps below.
Please note that the time limit is 60 days for exchanges and 30 days for refunds. The refund will be processed upon receipt of the package and will be made via the same payment method you used online within thirty (30) days of receipt of the returned items. Please note that it may take a few days for your bank to credit the refund to your account even if Town & Country Uniforms has confirmed the refund. If the item is returned without all the necessary documentation, it may cause delays in processing your order and your refund. See our return policy below for more information.

If you have any questions regarding merchandise returns, please contact our customer service department at 1-800-361-0388 or contact@tcuniforms.com
Here's how to return some or all of your items purchased on the Web:
1. Complete the form below and submit it;
2. Pack your items to be returned in a shipping box or envelope;
3. Include a copy of the invoice with the goods;
4. Wait for customer service to provide you with an authorization number and any other necessary information regarding your return.
N.B. Shipping costs for any return of goods are at the customer's expense. In addition, we do not accept any returns for port due ("collect").
Return Policy
To be processed, all returns must be accompanied by a copy of the invoice.
We only accept returns of items that are the same color and size as illustrated in our current catalogues.
Any item that is washed, worn, embroidered, silkscreened or tampered with will not be accepted.
Items must be in new condition, in the original packaging.
Transportation costs will not be reimbursed.
No return whose invoice date exceeds 60 days can be accepted.
A refund can only be requested on a return within 30 days.
A credit will be issued for any return within 60 days of the invoice date and will be applicable for a future purchase.
Uniforms Town & Country reserves the right to Accept or refuse at any time any return of merchandise.